Art
What we say about Art and Design at Minety Primary School...
"I liked sketching the bottles when we were doing our potions topic." Matilda
"I really enjoyed drawing and painting George, from George's Marvellous Medicine." Natan
"Art is great because you get to look at different artists' work. We've been creating a collage in the style of Henri Rousseau 's 'Surprise' and I 've loved hiding secrets in the collage!" April
"Children are naturally creative. It is our job to provide the inspiration and the freedom for children to express themselves through their creativity." Mrs Freer (Subject Leader)
Curriculum Intent
Art enables children to develop their creative imagination, enabling them to communicate what they see, feel and think through a range of tools, media and materials. During their time at Minety C of E Primary School children are given regular opportunities to experiment, invent and create their own works of art, craft and design. Skills and techniques are taught progressively to ensure that all children are able to learn and practice in order to develop as they move through the school. Children's interests are captured through theme learning, ensuring that links are made in a cross curricular way, giving children motivation and meaning for their learning. Throughout the key stages children's experience of art is enriched by finding out about famous artists (past and present), working with local artists on project and exploring our local environment for inspiration. We aim to ensure that all children are given high quality experiences, including those who may not have these opportunities outside of school.
We are committed to creating a positive, safe and nurturing Christian environment, where all members of the school community will be respected and valued and SHINE. By SHINE in Art and Design we mean children:
S

parkle – enjoy the process of making

H

elp – encourage and support each other

I

magine – use their imagination to create

N

urture – develop themselves and others through expression

E

xcel – always trying their best
To read our full intent, implementation and impact, click the link:
To read our progression and content for Art and Design, click the link:
Our Curriculum
We provide a creative curriculum based around the Cornerstones Curriculum, a nationally recognised approach for delivering outstanding learning opportunities for children.
We believe that art stimulates creativity, imagination and inventiveness. We believe that art gives our pupils the skills, concepts and knowledge necessary for them to express responses to ideas and experiences. It fires their imagination.
Art Award
We're currently working towards the National Artsmark award which is a creative quality standard for schools and education settings, accredited by Arts Council England.
The whole school has been thinking about the Queen's Platinum Jubilee and have done pictures using different mediums as part of celebrations.
Class 5 using tissue paper to create 'stained glass effect' class project on theme of Passover RE Judaism.
As part of their topic Frozen Kingdom Class 6 have been studying sculptures by the Inuits and had a go at making their very own soap sculptures of polar animals.
As part of their topic on dinosaurs Class 1 have made dinosaur worlds using shoeboxes, paint, tissue paper, pompoms, clay and sticks we collected from the garden.
During History Day Class 1 made firework pictures using two different methods, one using paint, glitter and cardboard tubes. The others were made by colouring paper with wax crayons, painting over the colouring and when the paint was dry scratching off some of the paint using coins to reveal the colours underneath.
Class 4 created mandalas using natural materials found on the ground at Westonbirt Arbortetum.
Class 5 have been using water colours and ink – illustration of the eruption of Mount Vesuvius in the style of Christina Balit, Escape from Pompeii.
For World Book Day Class 5 made their own sketch books.
Class 5 printing a simple motif of a fossil as part of Cornerstones Ammonite Companion Project.
Class 5 have made images of the nativity using chalk and black paper as part of their unit on SYMBOLISM IN THE NATIVITY STORY.
Class 1 have been painting bears as part of their topic Let's Explore.
The whole school created some Jubilee art for a display at the church.
Class 1 have looked at the Little Red Hen has part of their Topic "Once upon a Time" and have made windmills and painted the red hen.
Class 1 made snail pictures in the based on the work of the artist Henri Matisse as part of their phonics work for "ai".
Class 5 Dragonflies using water colours to paint fossils.
During History Day Year 4 children painted roman shield designs from the initial plans.
Class 1 have been painting self portraits.
Class 1 have been painting sunflowers as part of learning about the lifecycle of sunflowers.
Class 5 have been using oil pastels on black sugar paper for portraits of HRH Duke of Edinburgh Prince Philip to commemorate 'A Life Well Lived'.
Class 1 have been drawing snails using chalk and exploring the effects of smudging the chalk after drawing.
Class 3 have done some work inspired by Picasso's girls face.
Class 4 baked cookies (in their pyjamas!) for Comic Relief!
Class 5 have been painting mountains using watercolours as part of their Misty Mountain Sierra topic .
Class 4 enjoyed creating their own Cave Paintings – which then decorated the ceiling of our classroom – just like a real cave!
Class 4 used oil pastels to create a Bronze Age Settlement!
Class 6 created chalk pictures of rockets as part of their Stargazers topic.
Class 1 had a wonderful trip to Westonbirt Arboretum where they made artwork from things they found around them.
Class 4 using mark making to capture the Iron Man on paper after reading the novel as part of topic Mighty Metals.
Class 5 have been using pencil, pen and ink for observational drawing of different animal skulls as part of their engage day for 'Burps, bottoms and bile'.
KS2 have been making jungle - inspired collage by Henri Rousseau's 'Surprised!' using paper materials.
Class 5 have been making their own shields.
Class 5 have been doing observational drawing of Anglo-Saxon artefacts from the museum.
For Children in Need the School Council organised a Pudsey drawing competition with the winners judged by the School Councillors from each class.
Class 2 have been painting self portraits.
TAKE ONE PICTURE
Every year we take part in the 'Take One Picture' project, which is a national programme for primary schools, aimed at inspiring a lifelong love of art and learning.
We take one picture from a famous work of art, to inspire cross-curricular work in our school from Reception through to Year 6. We focus on and learn more about the artist and their work, using this to not only inspire our own artwork but our written work too.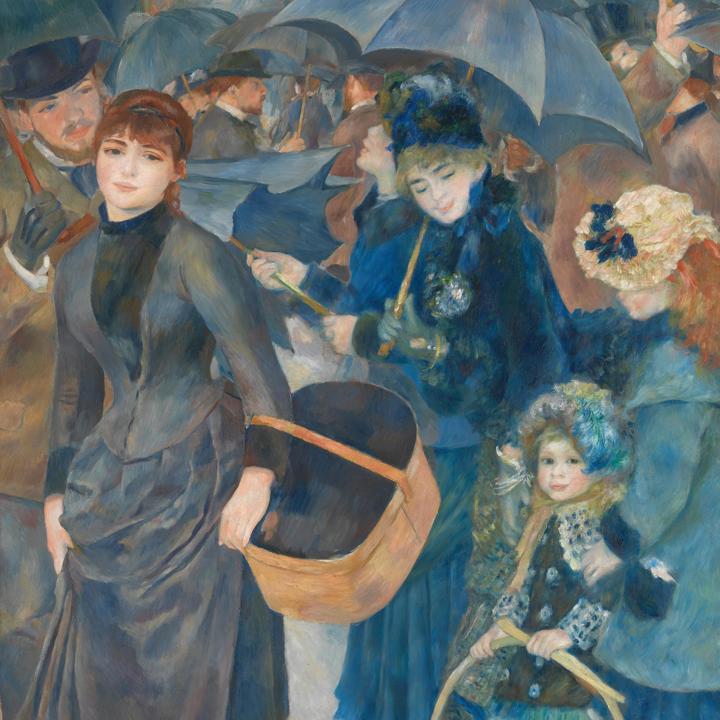 This May the children at Minety Primary School took part in their own teacher-led whole school art project based on the National Gallery's popular Take One Picture programme.
For this year's cross-curricular project we chose a painting by Impressionist artist Pierre-Auguste Renoir called 'Les parapluies' (The Umbrellas) which was painted in around 1880 in Paris. The original is now hanging in the National Gallery. The image generated great discussion around colours, clothing, fashions of the time, symbolism, history, art movements, painting techniques and so much more. We found out about the work of the Impressionist as well as painting of Renoir.
All classes took inspiration from this wonderful artwork to produce writing; biographies, stories, poems as well as creating beautiful pieces of individual art work as a response. A fantastic day was had by all, inspired by a painting more than 100 years old.
Class 6 created rainbow inspired artwork as a celebration of us all returning from lockdown.
Class 3 have been doing artwork based on George's Marvellous Medicine.
KS2 have been printing a repeated pattern as a response to art from the National Gallery 'Penelope and the Suitors' Painting by Pinturicchio, using potatoes.
Class 5 made paper collage portraits as part of their topic Henry VIII Off With Her Head.
Class 5 did watercolour paintings of Misty Mountain Sierras as part of their topic work.