Science
What we say about Science at Minety Primary School...
"You learn interesting things – I really enjoyed seeing how bacteria grew in different conditions." James
"You can explore lots of new things." Romey
"I enjoy doing experiments and testing how things react." Oliver
"I think science is more important than ever in our world. It helps to develop children's higher level thinking and questioning skills. I am also passionate about the opportunities that it opens up for children. One of my passions is breaking down gender stereotypes and encouraging all children to understand the careers (and what they entail ) that science can lead to." Mrs Madeley (Subject Leader).
Curriculum Intent
At Minety School, we aim to prepare our children for their future with a "hands –on", inquiry-based science curriculum that enables them to confidently explore and discover the world around them. We will motivate and actively engage our children, to nurture and grow their curiosity. Core scientific
knowledge and skills is taught through direct teaching, experimentation and exploration. Our intent is for all our children to be life- long learners who are: inquisitive, independent thinkers, confident to ask 'Big Questions' and who are well prepared for their future in the ever changing world. We also aim to
give the children an understanding of STEM career paths, and how to follow them. This will enable them to make informed choices as they move through their education.
We are committed to creating a positive, safe and nurturing Christian environment, where all members of the
school community will be respected and valued and SHINE. By SHINE in Science we mean children:
S

parkle by having an awareness of how science can change our world for the better.

H

elp – developing scientific ways to help each other and our planet.

I

magine how science can help us to create a better future.

N

urture our planet – understanding environmental science and the development of new technology and

science to support our world.

E

xcel by developing a strong scientific knowledge and conceptual understanding.
To read our full intent, implementation and impact, click the link:
Class 4 have been looking at shadows.
Class3 have been looking at animals and how they grow they talked about the different types of animal (reptiles, birds, mammals and amphibians) and that some lay eggs and others don't. They looked at the lifecycles of ducks, butterflies and humans and considered the differences and similarities.
Eco Council have been planting up some of the flower and vegetable beds at school.
Class 6 have been looking at what cells blood and different cells in blood. They talked about what the different cells do, red cells carry oxygen, plasma is the liquid that carries the nutrients and white blood cell help protect us against infection. white blood cells have a memory which help them protect us from infections we have had before and infections we are given vaccines for such as COVID19.
Class 1 have been investigating pumpkins and making pumpkin cakes.
As part of their science topic looking at the circulatory system, Class 6 got the exciting opportunity to dissect a sheep's heart. The children had to identify the external features, including the major blood vessels, such as the aorta and vena cava. The children then carefully opened the hearts up and were able to identify each of the four chambers and components inside them. All children took part in the lesson and the experience was a real stand out moment in their science journeys.
Class 1 have been learning about autumn and made some apple crumbles.
Class 1 have brought in flowers and have been painting and identifying them.
Class 4 have been investigating levers as part of science topic on forces.
Class 5 have been looking at their teeth as part of their topic Burps, Bottoms and Bile.
Class 5 have been looking at animal skulls and teeth to understand more about how teeth affect diet as an introduction to our new topic 'Burps, Bottoms and Bile'.
Class 1 have been planting seeds as part of learning about spring.
Class 5 have been making circuits from copper wire and led lights for interactive Christmas cards as part of their topic on Electricity.
Class 3 have been investigating the properties of materials as part of their Muck, Mess and Mixtures topic. They investigated whether wax was waterproof.
Class 5 have been considering the states of matter. When looking at gases they considered the question "Can moving air make a ping ball hover?"
Class 1 have been learning about the lifecycle of sunflowers. They have planted seeds, painted sunflowers and drawn and labelled the parts of the sunflower.
Topic on sound – class 5 taking part in sound walk around the school (having to remain outside the buildings!) but still catching plenty of different types of sound.
Class 5 have been investigating the effects of drinks on their teeth by using eggs instead of teeth.
Some orphan lambs came to school.
The NFU provided a related lesson as part of the 2021 science week and this can be viewed at Lambing Live.
Class 2 have been investigating things that float and sink.
Class 5 has been making and investigating electrical circuits. They made a switches from paper clips and tested the conductivity of various items.
Class 3 have been investigating the properties of materials as part of their Muck, Mess and Mixtures topic. They considered the question "Which material is the most absorbent?".
Class 1 made apple crumbles to cook and eat as part of their autumn topic.
Class 5 dragonflies dissecting flowers as part of our science lessons on living things – understanding reproduction in plants.
Class 1 had a wonderful trip to Westonbirt Arboretum where they learnt about lifecycles and how trees grow. Ther even made themselves into a living tree!
Class 5 investigating sound using string telephones and finding the best materials to insulate a buzzer.
We had a visit from Mr Philpott, Horse Dentist, with super talk and hands on experience of horse teeth vs. dog teeth.
Class 1 have been exploring water. They have been looking at how it flows and also what things float and sink.
KS2 have been making tinfoil boats to investigate why steel ships don't sink.
Class 3 have been investigating the properties of materials as part of their Muck, Mess and Mixtures topic. They had fun considering the question "Which ball is the bounciest?".
Class 5 have been considering the states of matter. When looking at liquids they considered the question "Are all liquids runny?"
Class 1 have been learning about autumn and the changing of the seasons. They learnt about what happens to trees and animals in autumn and painted trees in autumn colours.
Theme Week - Mellow Meadow Lands
During our theme week we all helped 'No Added Sugar' to paint a meadow land mural in the shared area.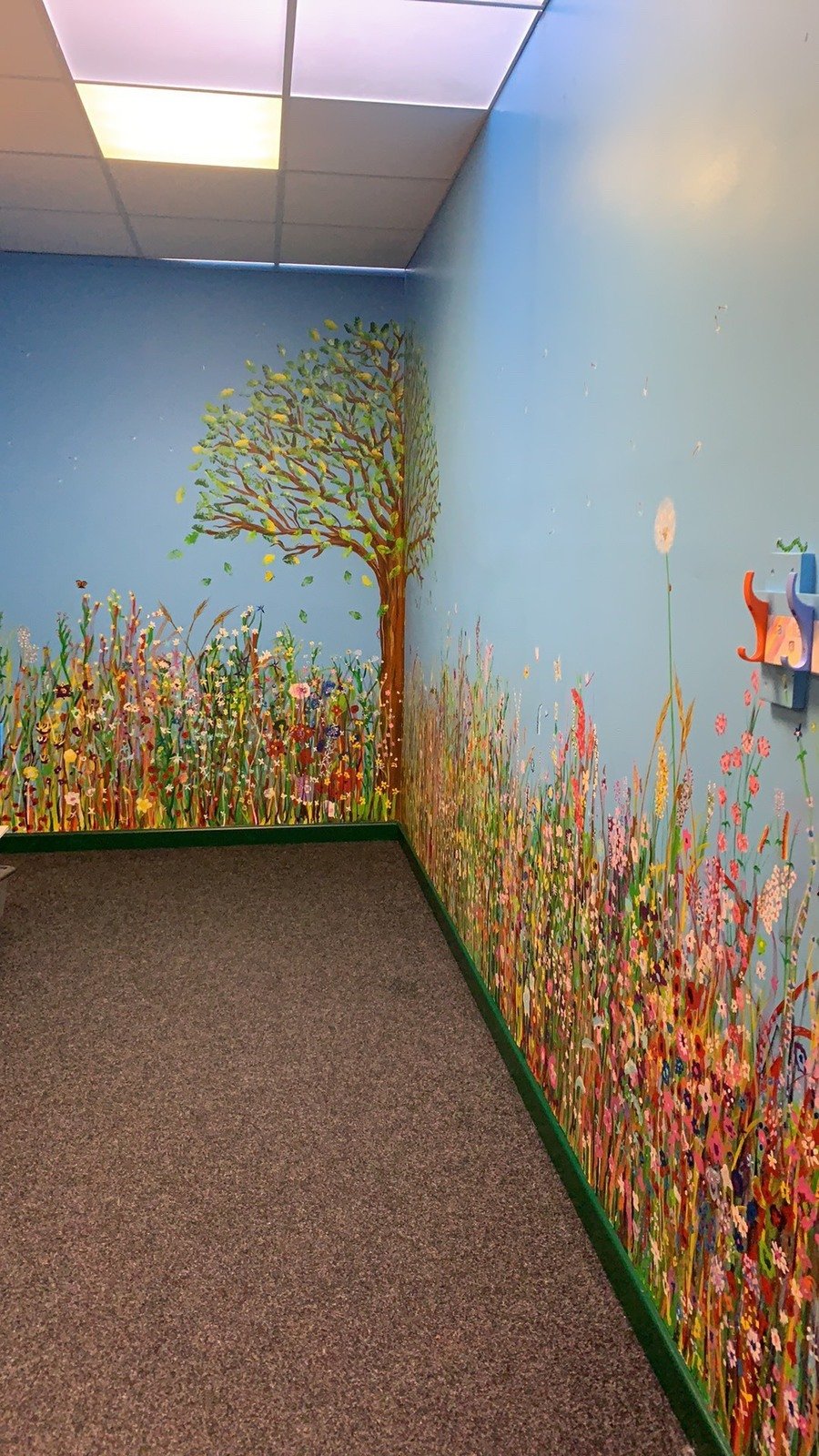 Class 3 had fun with balloons in science.
Class 5 have been investigating the properties of rocks.
We had a wonderful time when the Skinny Jean Gardner visited and the whole school got involved with planting seeds.
Class 5 have been investigating the properties of mystery samples as part of their Alchemy Island topic.
Due to Coronavirus the Science Club is not currently active but here are some some of the activities that the club has done in previous years.
We had a lovely afternoon with the Highways Agency learning about building bridges.
Gary from Highways England came in to present certificates to the winners of the 2019-2020 science club poster competition.
This is the press release from Highways England about our recent trip
We had a wonderful visit to the Highways Agency in Bristol where we visited the control room and learnt about what they kept in the vehicles to use when they are out on the road. We also constructed robots and gave them instructions.