Religious Education
What we say about RE at Minety Primary School...
'I like R.E because you get to learn about what different people believe and how this affects their lives' Alice
'I loved it when we explored spirituality and used art to help explain what it meant to us' Lilly
One of my favourite RE lessons was when we re-enacted the Last Supper in Class 4, as it really helped me picture what it was like and why it was an important event" Max
" From the pupils first day at school RE gives children valuable insights into the diverse beliefs & opinions held by people today. It helps with their own personal development & supports an understanding of the moral, social & cultural questions that surface again & again in their lives. Ms Madeley (KS1 Subject Leader).
"RE is such an important subject as it gives children a deeper understanding of different cultures around the world and allows the children to acquire values that they canuse in their own lives. " Mr Trendell (KS2 Subject Leader).
Curriculum Intent
As a Church of England School, the Christian faith is the foundations of everything that we do at Minety C of E Primary School. In all learning and life experiences, we aim to fulfil our school vision. We promote an environment where all children feel known, accepted, and valued as individuals, within a caring community, where our Christian faith affects not only what we teach, but also how we teach.
We believe that it is fundamental for the children to belong to a safe and nurturing community, founded on strong Christian values where children will develop an array of skills that will enable them to make their own positive contribution to our global society.
We are committed to creating a positive, safe and nurturing Christian environment, where all members of the school community will be respected and valued and SHINE. By SHINE in RE we mean children:
S

parkle by exploring how they can contribute to their communities and to wider society encouraging empathy, generosity and compassion.

H

elp develop their own spirituality, exploring and enriching their own journey of faith, beliefs and life choices.

I

magine (and contribute to) the creation of a better world.

N

urture a good moral compass, which is based on Christian beliefs, values and morals.

E

xcel by learning to explore, understand, respect and appreciate diversity in faith, beliefs and traditions.
To read our full intent, implementation and impact, click the link:
Schemes of work
Discovery RE
At Minety we use Discovery RE as one of our schemes of work which offers an e
nquiry based approach to help make RE exciting and engaging for children.
Christianity is taught in every year group, with Christmas and Easter given fresh treatment every year, developing children's learning in a progressive way. Buddhism, Hinduism, Islam, Judaism and Sikhism are included and there is flexibility as to which religions the school chooses to teach when.

Understanding Christianity
In conjunction with Discovery RE we also use the resource 'Understanding Christianity' which support pupils in developing their own thinking and their understanding of Christianity, as a contribution to their understanding of the world and their own experience within it.
The two schemes are complementary but they are also distinct. They are both used together to deliver a holistic and balanced RE programme. This is achieved by replacing the Discovery RE Christianity enquiries with Understanding Christianity units.
Religions in a nutshell
Below are some brief guides to the main religions we look at in Minety.
Click on each link to find out more about each religion: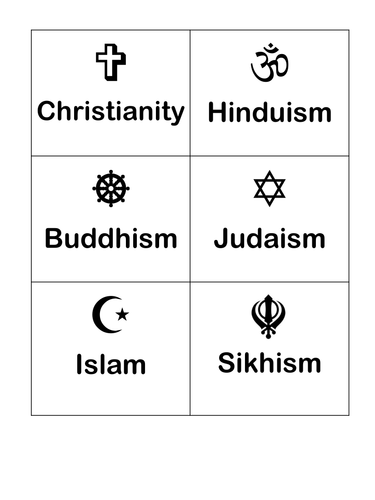 Spirituality
We have been looking at 'spirituality' and how we can express our own interpretation of it through art. Each of these pictures is an expression of a child's beliefs and what spirituality means to them.
Journey of the Cross
Class 6 have been exploring the journey that Jesus took when he was crucified. Each member of the class designed their own garden and included significant items that represented both Christ's journey and his story
.
Class 4 enjoyed learning about the Hajj and making collage pictures of the 'journey'.
Class 5 have been making clay sculptures of Buddha as part of our learning about Buddism: The Life of Buddha.
Puja Ceremony
Class 5 have held their own Puja ceremony.